Amsterdam –
During the AVAG 'Dutch Quality Hour' at GreenTech 2018 on 13 June, chairman Harm Maters presented two important quality and innovation-related initiatives from the greenhouse sector. Firstly, collaboration with NEN, knowledge institutes and the greenhouse construction and technology industry has resulted in the launch of two new NEN standards for diffuse glass. Secondly, the 'HortiQ Hagelunie, Partners in Quality & Continuity' partnership was presented.
NEN standard for diffuse greenhouse glass
During the AVAG Dutch 'Quality hour', Annemarie Mewe from NEN officially launched two new NEN standards for diffuse glass. "The two new NEN standards make it possible to determine the optical characteristics of (diffuse) covering materials and screens for greenhouses and ensure a workable sampling process for glass in new-build projects. We are therefore proud that these standards are also supported by everyone involved: producers, growers, greenhouse manufacturers, installation companies, glass distributors, consultants and knowledge institutes," stated Annemarie Mewe.
When used in a greenhouse, diffuse glass ensures that natural light penetrates more deeply into the crop. The light reaches a larger surface area of the leaves, enabling the plant to absorb more carbon dioxide (CO2), and CO2 boosts growth, production and quality. Comparative studies demonstrate that diffuse glass achieves a 3 to 7% higher yield. The new standard, NEN2675:2018, describes the measurement of light transmittance and scatter by greenhouse covering materials and screens. In the revised standard for the sampling procedure (NEN2674), the supplier and the client jointly select and put aside a limited number of panes immediately after delivery. These can later be used for measurement in accordance with the new standard.
The NEN standards have been developed by Hortivation and Wageningen University & Research in conjunction with suppliers of knowledge and technology, LTO Glaskracht Nederland and NEN.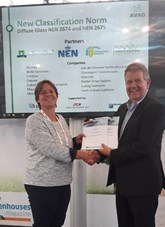 HortiQ Hagelunie
Additionally Peter Broekman, Managing Director of Hagelunie, signalled the official start of HortiQ Hagelunie. After a year in the development phase as a HortiQ concept, the collaboration between the HortiQ-certified companies and insurance firm Hagelunie is now as solid as a rock. From now on, the partnership will be known as 'HortiQ Hagelunie, Partners in Quality & Continuity'. Peter Broekman: "This partnership enables us to offer even closer to support to businesses throughout the construction process. In the case of any damage, the grower is up and running again almost immediately. We guarantee the customer that not only the greenhouse itself but also the systems comply with objective quality standards. We share our knowledge right from the design phase of the project, and the customer can continue to rely on our guidance during the construction process too. This partnership allows us to contribute Hagelunie's extensive horticultural knowledge and experience, from greenhouse manufacturing and systems to plant material, as well as our international experience."